To: Liberal Arts Faculty, Staff, Graduate Students, and Post Docs
From: Clarence Lang
Date: April 9, 2021
Dear Liberal Arts Colleagues:
​I have received the following helpful information re: local COVID vaccinations, which I received from a source outside our College. This is not an official University communication, but I am sharing it as a useful compendium of resources for those who might find this comprehensive summary convenient and useful. Aside from a minor change to format, I have not changed the original message as I received it.
Happy Friday!
Regards,
Clarence    

---

Forwarding from another source:
The PA Department of Health announced today that there will be widespread vaccine availability for phases 1B and 1C over the next couple of weeks, and then to EVERYONE by April 19.  Remember that educators in higher ed are in Phase 1B, so many of you should be able to get appointments early next week.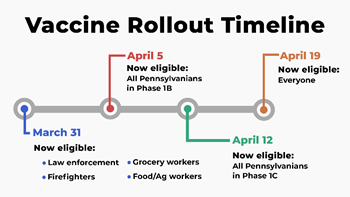 It is recommended that you figure out which phase you are in – and get an appointment ASAP. See: https://www.health.pa.gov/topics/disease/coronavirus/Vaccine/Pages/Vaccine.aspx
Additionally, here is a one-stop shop for finding a site: https://vaccinefinder.org/
If that doesn't work, here are some places in Centre County to get the vaccine:
3901 S Atherton St, State College, Pennsylvania 16801
Phone: 814-466-7936
Also I have heard that many people from State College have been traveling to the Johnstown area, and have been able to get appointments fairly easily.
More good vaccine news – the Jordan Center is now a Dept of Health vaccine distribution site – serving 600 shots/day with increasing volumes. The link below will take you to the press release from DoH – with appointment dates starting Friday and through the weekend, then 5 days/wk (Thursday – Monday – so no appointments Tues/Wed):
https://www.media.pa.gov/pages/health-details.aspx?newsid=1387&fbclid=IwAR37wiMBY4IizVFTRn7ZZmZ4hccLkTC0zZ9ahsOxTGlD6piiD4qTtC8qdHo
Here is the link to get an appointment. The phases that I mentioned before are still in effect, but higher ed educators are eligible now (per phase 1B):